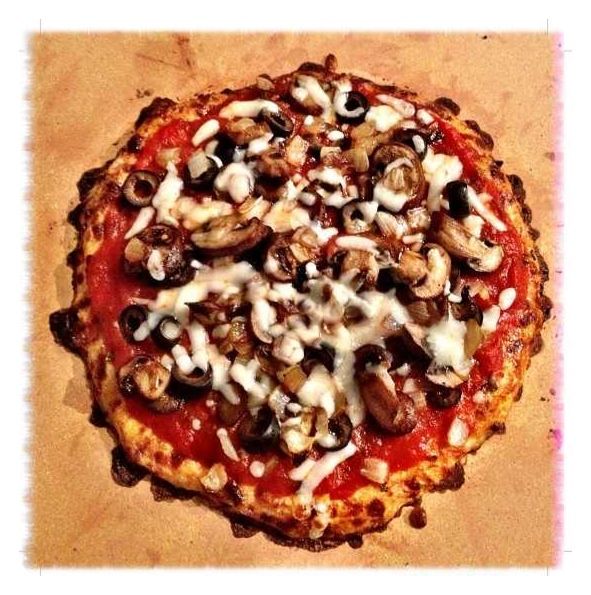 Anyone that knows me would tell you my favorite food is pizza! 😉 While gluten free crust is a healthier option, cauliflower crust is even better!
2 Cups cooked cauliflower rice (see below)
1 Large egg
1Cup shredded mozzarella cheese
1 Tsp oregano
2 Tsp parsley
Making the cauliflower rice: In a large skillet, heat 1 Tbsp olive oil over medium heat. Meanwhile, place cauliflower in a food processor with the "s" blade & process until the texture of rice. (If you don't have a food processor, you can simply use a cheese grater to grate the cauliflower into rice!) Add cauliflower to skillet, cover & cook 5-10 minutes, until soft, sprinkle with 1/4 Tsp salt. Using a clean dish towel or cheese cloth, drain cauliflower completely, removing as much water as possible.
-Preheat oven to 450 degrees -Slightly grease baking sheet or you can use a pizza stone -In a bowl, combine cauliflower rice, egg & cheese. Press evenly onto the pan & sprinkle with oregano & parsley -Bake at 450 degrees for 15-20 minutes, until "crust-like" -Remove the crust from oven. Add organic, no sugar added marinara sauce, your favorite toppings (spinach, black olives & organic chicken sausage are mine!) & a sprinkle of mozzarella -Place under the broiler at high heat until cheese is melted & bubbly. Makes 4 slices or servings *Here are some tips to make your crust "crusty": -Make sure your cauliflower is dry after washing & cooking -Spread your crust out thin -Bake until "crust like". If you peek at your crust at the recommended cooking time & the middle is still not cooked, cook longer. 🙂
Found this recipe from Damy Health. It is insanely good….& good for you!