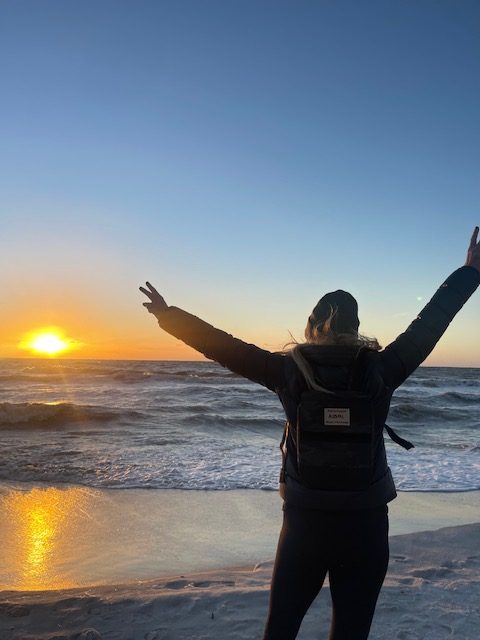 Thinking of doing a GORUCK or intense endurance event, but you need to up your fitness game?! Or maybe you're interested in trying rucking and want to get in shape, but you're not sure where to start or what to do? Pathfinder's got you! 🙂
Pathfinder Ruck Training is a 12 week online-based, self-paced rucking program that you can do anywhere with minimal equipment. With six different levels to choose from there's something for everyone, whether you're new to rucking or want to really push yourself to the limit.
A friend of mine was signing up for the Nov-Jan '22 class and suggested I give it a try. Of course he recommended the advanced one because those are the kind of friends I have lol. I've done a handful of GORUCK events and consider myself to be in decent shape and always up for a new challenge, so obviously I said yes!
No matter which Pathfinder program you sign up for, they all have the following objectives that must be completed in the 12 weeks to pass.
-Miles to ruck
-Ruck workouts
-Challenges
The advanced boasts that you will be at peak fitness and in the best shape of your life after the three months. This program is intended to train those who will be embarking on the most demanding endurance events. Even though I wasn't training for anything specific, I wanted to test not only myself, but the Pathfinder program as well.
First off, what's so awesome about this program is that you can structure it to fit your schedule. The MOST important part is CONSISTENCY!!! I can't stress this enough! Try to have a plan. Even if you can map out a week at a time of which days/times you'll ruck, do a workout or a challenge it's so beneficial. Life sometimes gets crazy though, schedules fall apart, but don't stress…keep moving forward! Getting in one or two miles is better than nothing. This is literally your challenge so make it work for YOU and "choose your path"!
When you sign up you're assigned a roster number. Mine is A23-191. That roster number will stay with you for your entire Pathfinder career! You're also assigned a CA (course advisor). These are volunteer mentors who are there for you if you have any questions or maybe need a little motivation. In addition there's a Facebook group for your class and your specific group where you'll find so much motivation, tips and encouragement.
-Rucking-
For my Advanced challenge I had to complete a minimum of 200 rucking miles. Okay, that was a HUGE number for me and although there wasn't a required ruck weight, it's encouraged that you're working up to your challenge weight. Mine was 30 pounds which was 50% more than my base weight that I normally do! I did more than 80% of my 200 miles at the 30 pound weight because that's how I roll, lol. You can break this up however you want and all the rucked miles, including miles rucked in challenges, count towards your total.
-Workouts-
Advanced requires 30 workouts in 12 weeks. Yes, I do more than 10 workouts a month, but I only counted the really tough ones that were a minimum 45 minutes long and about half involved a combination of sandbags and a ruck. Another great thing about this program is that you have access to their workout library so if you're unsure about what to do, they've got you covered!
-Challenges-
There's a list of various challenges to choose from ranging from an overnight ruck to a yoga challenge. Five are required for the Advanced class. The following are the ones I chose:
6 mile beach ruck/ 30#s. This had to be completed in the soft sand, hence their motto, "choose the harder thing"!
9 Yoga Classes. I did 60 or 90 minute Bikram hot yoga classes at Arts & Hot Yoga . #bestinnaples <3
Firefighter Challenge/ 30#s. This consisted of 3 separate 1 hour of stair climbs. I did these at a local outdoor mall with a 5 story parking garage. Not only did I get a lot of strange looks, but I also realized that almost everyone sadly takes the elevator!
36 Miles Rucking pre/post workouts/ 30#s (min 4 miles/max 6 ea). I did nine of these at the 4 miles usually pre workout, but honestly it didn't make a difference whether I did the ruck before or after. It sucked either way! 🙂
Charity Challenge. So this is super cool! This was the first I heard about this organization, Charity Challenges . They have different virtual and live challenges ranging from push ups to squats and a 100% of your donation goes to amazing charities dedicated to helping Veterans, like The Green Beret Foundation and Team RWB. They've raised over $167,938.50 to date! Simply incredible! I did the 2500 squat challenge and of course got a bad ass patch!
There are a few additional requirements that you'll find with Advanced Pathfinder Ruck Training . You need to score at least 250 on the APFT (Army Physical Fitness Test). You do a baseline at the start and then retest at the end of the 90 days. (max push ups & sit ups in 2 minutes, 2 mile ruck time and 2 mile run time). Additionally, you need to complete a 12 mile ruck in under 3 hours with your challenge weight and lastly one book is required from their extensive provided reading list.
At the start this all looks pretty overwhelming (at least it did to me!), but if you approach it one day at a time, break it down into smaller chunks and STAY CONSISTENT you WILL SUCCEED! It's also important to make sure you log all your miles and workouts to ensure you get credit. I absolutely loved this program and they're correct in saying that these 12 weeks will get you in incredible shape. You can expect to gain endurance, stamina, strength! To me the best part was the feeling of accomplishment when I was able to check everything off the list, especially those 201 rucking miles! I liked it so much that I'm currently enrolled in their Forward program, a little less intense, but still challenging! I'm confident no matter which Pathfinder Ruck Training Program you choose it will be the right path for you! 😉 #choosetheharderthing