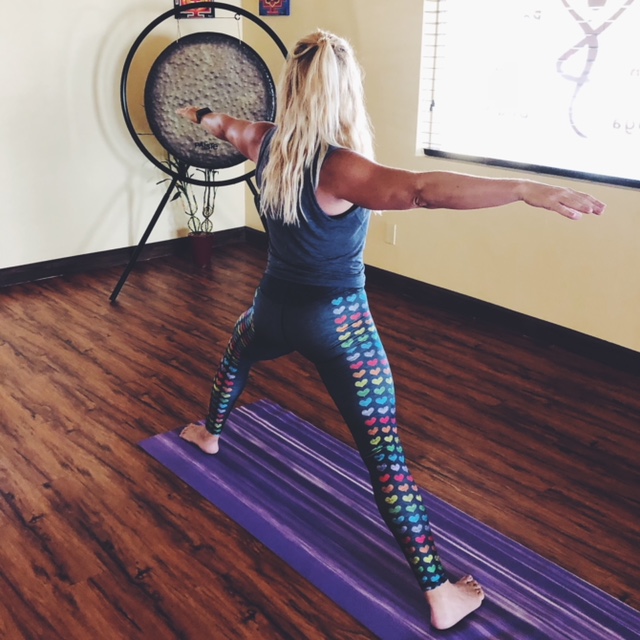 My journey led me to try yoga last month. Stillness. Calm. Quiet. These are not at all things I'm used to in my CrossFit world, however it was quite an interesting change. One of the coolest things about this #fit12journey is how much I'm learning about myself, not only as a trainer or athlete, but as a person. Yoga at BKS Yoga Studio helped me do just that by focusing my attention inward, something so different than what I'm used to doing. The studio is super quaint and peaceful with nice boutique in the front. Jill, the office manager, is seriously the most pleasant and welcoming person ever, so even someone totally unfamiliar with yoga (like myself) is made to feel like they belong!
So why yoga? People use yoga to raise their quality of life in such diverse areas as fitness, stress relief, wellness, vitality, mental clarity, healing, peace of mind and spiritual growth. It may sound crazy, but I swear I could look around the room during a class and pick out why I felt someone was there! Believe it or not, I was going into it for more than just fitness, but rather with a totally open mind to explore where it would take me. I know that's deep…;) Yoga is more than simply stretching like in other types of fitness. Within the physical practice it's unique because you can connect the movement of the body and the fluctuations of the mind to the rhythm of your breath. Connecting the mind, body, and breath helps us to direct our attention inward. Your body will become much more flexible by doing yoga, and so will your mind.
Since the individual experience of yoga is quite personal and may differ for each practitioner, there are a wide variety of approaches to its practice. I tried several different classes at BKS Yoga Studio (they have so many!), each class and instructor is unique. I loved Mirium's Hatha Yoga class. Hatha refers to a set of physical exercises, known as asanas, and sequences of asanas, designed to align your skin, muscles, and bones. The postures are also designed to open the many channels of the body, especially the main channel, the spine, so that energy can flow freely. We spent an entire class focusing on backbends. By the end I was able to do my best one ever. <3  I took some Gentle Yoga classes by Susan, Jamie, and Barbara (the studio owner) that were incredibly calming and great stress relievers. These classes focus stretching and breathing, not feats of strength or extreme flexibility. If you've been intimidated by more athletic styles or are looking for a way to unwind, you may want to explore this style. Gary taught a couple of the Slow Flow classes I took. This style is a combination of movement and breath with a slow, controlled vinyasa sequence for a deep mind-body practice. His music selections were so perfect for this style of yoga too! Lastly I took a couple of amazing Vinyasa yoga classes taught by Salima and DamaDe. It's probably no surprise that this style is my favorite. 😉 These faster paced flow classes are perfect if you want to feel strong, flexible and balanced. Vinyasa is a dynamic breath-focused practice where you string poses together to make a sequence. Get ready to sweat and get your heart rate up a little in these classes! 
Barbara has a wonderful group of well-trained instructors. Each one was so unique and engaging, checked for injuries or limitations, and really went out of their way to modify as needed and make it a great class for everyone present. The above I mentioned are only some of the classes offered at this charming studio. There's others such as Funky Flow, Iyengar, Kundalini, and Restorative. In addition to these offerings they are frequently holding various workshops. Yoga pants or longer shorts and a comfortable shirt (or just a sports bra) are perfect attire along with your water bottle of course. No worries if you don't have your own mat, they'll rent you one for $2-. 
That inward focus I mentioned is truly amazing and I can see how the more you practice yoga, the better you would get at connecting the mind, body, and breath. I so much enjoyed the calm and stillness that you experience here. By practicing these asanas it is believed that you can achieve a feeling of "oneness with the cosmic energy flow of the universe". That coupled with breathing exercises and meditation practices, these asana positions are "the pathway to serenity and spirituality". Again, pretty deep I know! 
I'll leave you with something I found interesting, maybe one more reason you may want to begin practicing yoga. Nayaswami Gyandev McCord, author of Spiritual Yoga, states, "Most people seek happiness in the form of pleasant life circumstances. Sometimes they find it, but unfortunately it never lasts, because circumstances inevitably change. Yoga, on the other hand, offers a route to happiness that doesn't depend on circumstances. It helps us connect with the happiness that is our natural state, untouched by outward circumstances. Yoga's approach is scientific, not religious, for its criterion for validity is experience rather than belief."  <3 #namaste #bestill #findyourinnerhappiness