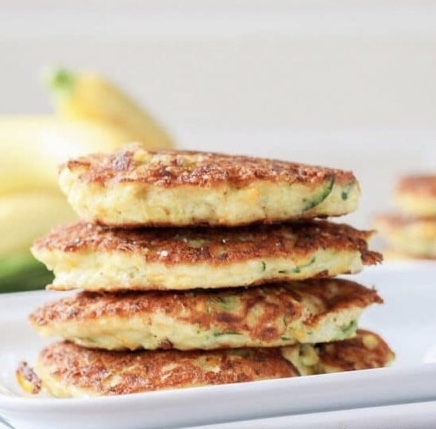 These veggie pancakes are a great side dish that will compliment any meal! 🙂
For 4 cakes you will need:
2 Tbsp coconut oil
3 eggs
3 Tbsp coconut milk
1/4 tsp salt
1/2 tsp baking powder
3 Tbsp coconut flour
2-3 cups vegetables-chopped green onions, shredded carrots, zucchini, broccoli slaw and/or any other veggies you can shred or cut into very small pieces.
Mix oil, eggs, milk, salt, baking powder and coconut flour together in a medium bowl. Set aside.
In a skillet, warm a little coconut oil and add your vegetables. Saute until they're soft.
Add veggies to the egg mixture. Mix thoroughly.
Heat more oil in skillet. Add pancake size dollops of the mixture into the pan. Flip when the edges start to brown. Cook for a couple more minutes.
Voila! Serve warm with sour cream or apple sauce. I love them plain! 🙂 Enjoy!
Recipe from Joyful Abode