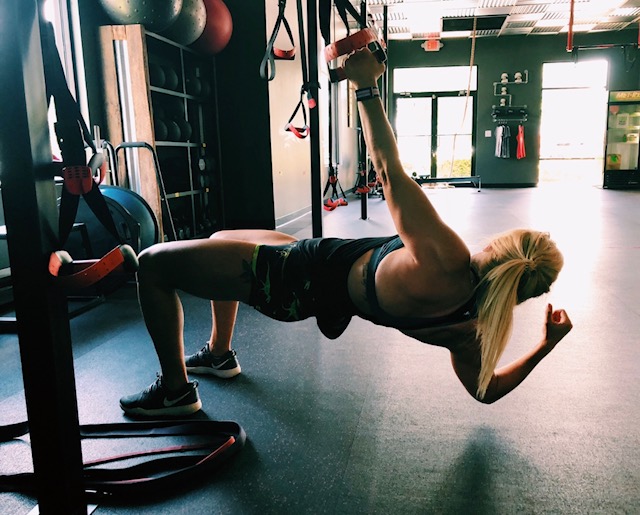 If you are looking for the average gym where the members are sometimes not welcoming to new people and often times so cliquish that it's difficult to fit in, this is NOT that place for you!!!! Au contraire! From the moment you walk into Six4Three HIIT Room you are made to feel like family! I am purposefully starting off with this point because I know that for so many of us taking that first step towards getting fit is literally stepping into the gym. If it's intimidating before you even start your workout, chances are you won't continue coming. So kudos to owners Kelly and Jason for creating such a warm, friendly, inviting environment!
Other than welcoming, what exactly is Six4Three HIIT room? It is high intensity interval training (HIIT) for men and women of all fitness levels. They follow the PFT (pure form fitness) system that combines the high intensity with metabolic resistance training. You perform short sets of intervals (or tababtas), back to back, switching between non-competing muscle groups to create a cardiovascular circuit. So basically you're getting an awesome cardio workout and a total body strength workout in less than 45 minutes! I think part of the reason I enjoyed these workouts is because this HIIT/ tabata training is what I love sometimes for myself as well as how I often train others. It produces results and is constantly varied to keep it interesting.
Whether you are new to exercise or an avid fitness enthusiast Six4Three has got you covered! Everything can be modified and you can do the movements at your own pace as well.  For instance, say one of the movements is med ball crunches on a bench. There may be one athlete holding a 15# med ball knocking out 25+ crunches in the 30 second interval without their legs ever touching the ground. Next to that individual may be someone with their hands placed on the bench for balance, not holding a med ball, doing only 10 crunches in the same amount of time. Everyone has to start somewhere and the coaches and members are all very accepting of this.
Classes start with a group warm up, then go into a circuit style interval training. The best part of interval training is that there's a built in rest! Who doesn't love that?! Lol! MWF are strength days and TTHSat are core cardio days. The circuits will stay the same for the month which is nice because you can focus on form, master the movements, and track your progress. Movements range from body weight to using light to moderate weight dumb bells. The equipment consists of TRX and resistance bands, slam balls, sand bags and jump ropes. Trainers Melissa, Amanda, Kelly and Jason are always right there to correct form and help with any necessary modifications. Each class has a "finisher" that usually lasts just a few minutes, but really packs a punch! One that I liked there was where you do three push ups on dumb bells, then three dumb bell thrusters (squat presses), two of each, then one and back up the ladder as time permits. It's always so great to have that final push after your workout!
What makes Six4Three HIIT Room so special is that they focus on relationships and a fit lifestyle. They have organized charity events, nutrition challenges, and even train together and do OCR races as a group. They truly care about their members and it shows! So if you're looking for a new challenge and you want to "HIIT" the gym hard give them a try! 😉